Hobbies Let You Turn Free Time into Fun Time,
Reduce Stress and Live Longer!
Yes, that's right! Hobbies have been shown over and over again to reduce stress levels which as we hear in the news every day causes heart disease and other health problems. Not to mention the problem of deteriorating mental health. Having nothing to do with empty time adds to depression and lack of self worth and all the variations of this problem. Keeping busy can help!
Sounds too good to be true! Find relaxing free time activities and live longer, can it get better than that? I don't think so! On top of that some of these activities can be turned into a little extra cash. I know what a little extra money does for my mental health!
So, How do we find that perfect free time activity? You might ask. Well, when I look for activities to fill my spare time, I ask myself the following questions:
- Is this something I see myself doing? Does it fit with the other kinds of things I like to do?
- How does it fit the time I have available? Will I be able to spend enough time on the new activity to make it rewarding in some way?
- What is my budget situation? Some pastimes are low cost to start and low cost to keep going. Some are cheap to start but expensive to keep doing. And yet others are expensive to start and costly to maintain. How does my situation fit?
- Do I want to sell my creations? Is this an activity that makes a saleable product?
- Do I have any unique skills or interests that make one hobby preferrable over another? Or, do I really want something completely new and different?
The other thing to remember is that you don't have to stop with only one. For example, right now my free time activities are,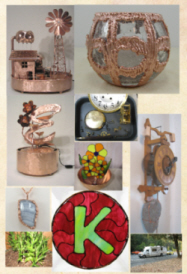 - Stained glass
- Metal crafting
- Copper electroforming
- Woodworking
- Growing succulents
- Making jewelry
- Jigsaw puzzles
- Repairing antique clocks
- Soapmaking
- Fish keeping
- And, in my spare free time I travel in an RV.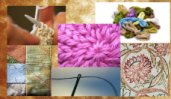 I guess my point is that you don't have to pick only one. It really is ok to be a hobby junkie! Be adventurous and look for several that interest you and then try them all!
This Hobbies and Pastimes encyclopedia is here for your use and enjoyment and to bring you information that will help you find a new pastime or to start your very first one. While I have first hand experience with many of the activities listed, not all. So, if I don't get something quite right please let me know in kind words so I can improve.
So now, please begin exploring the wonderful world of freetime activities. Check back often as I am always adding new content.
This is a handy site map to help you get around my site easily!
Crafts spotlighted include knitting, crocheting, sewing, leatherworking, quilting and others. These activities have historically been handed down mother to daughter continuing long traditions.
Crafts spotlighted include candle making, lapidary, origami, pottery, silversmith, stained glass, woodworking and others.
Collecting is one of the hobbies and pastimes discussed here. Coins, stamps, trading cards, comic books, dolls and election memorabilia are a small sample of items sought by collectors
Computer Hobbies are a growing category of traditional activities and pastimes that fully embrace the digital age. Any arts and craft activity that can be performed using the computer.
Kids hobbies are beneficial as expressions of personal accomplishment. Serving as a means of self-discovery hobbies build self-esteem.
Many Money Making Hobbies success stories have begun by people turning their hobbies into profitable ventures. Many of the wonderful handcrafted items created by hobbyists are now sought after by valu
Pastimes are activities that helps one enjoyably pass the time. This differs slightly from a hobby which is done primarily for relaxation. This section explores the wide range of possible activities
Home and Garden hobbies happen to be one of those activities that combines the characteristic of a hobby and those of mundane chores around the home. Either way, they are relaxing and therapeutic.
Guy Hobbies can be most anything, but typically are not knitting and crocheting. While guys will typically like these better than gals do, the gals can also have fun with these.
RC or Radio Control vehicles are the dream hobby for those of us that like to tinker with electronics and mechanical things. Learn more about this hobby here.
The various branches of science can easily be made into fun hobbies. Whether you want to use regular household ingredients to make fun green slime or forecast the weather these hobbies are for you!
This blog highlights all of the latest updates to the Hobbies-And-Pastimes.com website.
Interesting Links to Directories and Quality Hobby Sites
Site Search is a page for searching Hobbies-And-Pastimes.com or a World Wide Web search.
This is a simple contact page.
ideas on planning a craft party, plan age appropriate crafts, organize, shop for supplies, host, and help the children have fun, for girls and boys.
Would you like to share your knowledge about hobbies? Great, find out how you can submit your story or tip here.