Beading - Oh No, I Dropped My Bag of Beads and Now They Are Everywhere!
Beading is a fascinatingand rewarding hobby. Your projects will typically take the form of jewelry, mostly necklaces and bracelets. However, you can also embellish hand bags, blankets, wall hangings and many other items. This craft can vary widely in terms of your level of detail and skill. Your creations can vary from elaborate patterns using numerous strands to very simple single strand necklaces and bracelets.
(Scroll Down For Videos!)

This craft appears to have been present throughout human history. Archaeological evidence indicates it may go back 75,000 years. necklaces made of animal teeth and bone have been dated back some 40,000 years. They have been used in prayer rituals such as catholic rosaries and prayer beads used in China, Tibet, Korea and Japan.
This is a craft that has a relatively low cost to get started. In most cases you need only the raw materials for your project. If you don't already have one you will want a small pair of pliers for cutting stringing wire and bending clasp closures. Depending on your project choice, you may have to purchase a pattern. Be sure to look for the numerous free patterns before opening your wallet.

A basic necklace requires only string, beads and clasps. You have available an endless variety of sizes, shapes and colors to choose from, so be bold!
Don't be afraid to design your own creation! You may find that you have a new talent and one that you can make money with. Sell your creations online through ebay or ETSY. Since your costs are low it is easy to make a small profit even at a low selling price.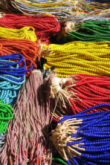 To make a necklace, head out for the nearest craft store and the supply bins. The key to an elegant design is to keep the number of colors to a minimum. Select a few shades of the same color or choose different colors of the same style and size. Select too many different elements and it could end up looking like a bit of a jumble.
Once you have selected the style and colors it is time to pick out a clasp set. There will be many different metals, colors and styles to choose from. Next you need to select a wire or thread to string them onto. A flexible nylon covered wire may be a good first choice as no needle will be needed to do the threading.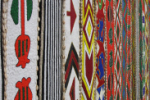 When you believe you are near finished, hold up your creation to your neck and decide if you really like it. Now is the time to make changes, before you put on the clasps. Make your adjustments and finish the clasp ends. It is ready to wear!
When making belts or embellishments you may want to invest in a simple loom. Looms are a great way to make your beading creations. However, there are dozens of loom options to choose from. Do you want to make small bracelets or large necklaces. Different loom styles are better for certain projects.
Your projects can be theme based such as formal wear, bridal designs, for children, holiday themes and sometimes quirky ones just for kicks. Let your imagination go to work and have some fun!
Other descriptors include jewelry beads, hobbies for women and kids crafts.
---
---
---
Some Other Resources To Help You Get Started:
Jewelry Making Supplies - A huge selection of great value jewelry making supplies, to create your own unique jewelry.


Ideas, Free Patterns, Etc.


Free Projects, Forums, Galleries, Etc


Tips, Projects, Newsletter, Etc.


Loom Information



---
Clubs And Associations You Can Join:
Associations and Guilds


More Associations



---
---
Return From Beading to Crafts Part 1 Page


Return To Hobbies-and-Pastimes.Com Homepage
---